Cutlery Tray Drawer Organizer
customers are viewing this product
On the search for the perfect tool that will make your kitchen neat and clean and could organizer even the smallest items in your kitchen? We can help you minimize the space and tidy up your utensils! No problem! This product is designed to save space and make your kitchen more streamlined and efficient in general. Have your cutlery organized now with our Cutlery Tray Drawer Organizer.
Organize flatware and utensils while making the most of your drawer space with our

Cutlery Tray Drawer Organizer

. Choose the configuration that fits your space. It's a space-efficient organizer that keeps kitchen drawers orderly and favorite tools easily accessible. Nonslip feet keep everything securely in place. This will surely give you more space in your kitchen drawer!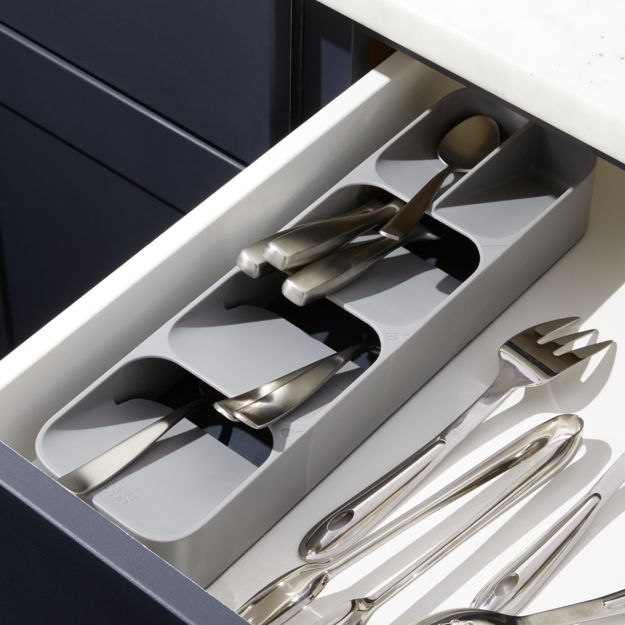 UNIQUE | ERGONOMIC DESIGN - This space-efficient organizer keeps your kitchen drawers organized, making your favorite tools easily accessible. This Cutlery Tray Drawer Organizer slants each compartment elevating handles to create room below.
PERFECT SIZE | FITS MOST KITCHEN DRAWERS - This functional tray is just the perfect size to fit your beloved utensils. It has a dimension of 15½ x 4½ x 2¼ inches and a minimum height of 3.25 inches, allowing it to fit in most the kitchen drawers.
SAFE | USER-FRIENDLY - No need to worry about the safety of your tools because our Cutlery Tray Drawer Organizer is made from 100% food grade PP material, approved by FDA/LFGB Standard, making sure that you're in good hands.
NON SLIP | COMPACT - It comes with a soft-grip lining and non-slip rubber feet to ensure that items stay in their place and to avoid shifting.
Package Included:
1x
  Cutlery Tray Drawer Organizer
Online-exclusive: not available in stores!
Extremely high demand: allow 2-3 weeks for it to arrive (to be safe). Limit 5 per person!
Free Shipping on Orders Over $119.98
Total Time = Order Processing Time + Shipping Time
Processing: 1-3 Business Days.
Standard Shipping: 14-21 Business Days
The approximate shipping time accords to each country:
United States, United Kingdom, Canada, Australia: You can expect your package to arrive in 10-18 business days.
Others: 15-21 business days.
*Please note that these are estimated delivery times only, therefore OrderRich is not guaranteeing delivery dates.